Products List


Contact us
Contact Person: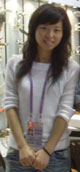 Ms.Tina

Chat Now!

Tel: +86-577-86995592
Fax: +86-577-86995592
E-mail: tinazhangfly@aliyun.com
MSN: tinazhangfly@live.cn
SKYPE: tinazhangfly




Dual-effect energy-saving evaporation vessel

You are here :
Home
»
Products
»
Pharmacy Equipment
»
Search keywords: Dual-effect energy-saving evaporation vessel
Product Name: Dual-effect energy-saving evaporation vessel
Application: Liquid
Material: SUS316L/304
Type: Pharmacy Equipment
Minimum Order Quantity: 1 Set
Port: ningbo
Packing Details: Cotton cloth/wooden box
Delivery Time: 30days
Payment Terms: T/T
Supply Ability: 100 Set/Sets per Month
Product Details: Dual-effect energy-saving evaporation vessel
1).SS 316Lor304
2).accordance GMP standard
3)10yeas experience
4).difference volume for choose
Ability Evaporation,Energy-saving
Suitable Thermal Sensitive Material

Evaporation Vessel

Main Advantage:
It is energy saving concentrator ,the characteristic of this dual effect is the steam can be twice use . take 1000L dual
effect concentrator for example,it can save 3,500 tons of steam, 90,000 tons of water, 80,000 watt of electric per year, it is about save $14,000-$22,000 per year
Product Description
Dual-effect energy-saving evaporator is used in Chinese traditional medicine, western medicine, glucose, starch, MSG, dairy products and chemist to concentrate their liquid, especially suitable for termally sensitive materials to concentrate.
Characteristics:
Combining the advantages of domastic homogeneous products and suggestion, our company improved the design aboratively, and the effectiveness is much better.
1. Energy-saving profit:In case of SJN-1000, the saves respectively in the term of vapor, warer and electric per year are about 3500 tons,9000 tons and 8000watt, equal to RMB 100,000~150,000 Yuan.
2. Adopts the form of making output heat circulation system and vacuum negative evaporation combining together to fasten the speed. Concentrating gravity can reach 1. 25~1.35( in case of normal China traditional immerse cream) without need of open-mouth pan for collection of cream.
3. The liquid is concentrated in sealing and without foam condition. The materials flowed out have no pollution, the taste of the medicine is very heavy, the cream is made evenly.
4. The heater and the top cover of evaporator adopt turnover arm structure opening the caver of the Heater, they can be cleaned. It is very convenient and save time and labor.
5. With the adoption of double-efficient simultaneouse evaporation the twice steam can be used aboundently and the energy can be reduced. Compared with single-efficient, the energy can be reduced 50%, at the same time the organic solvent can be recycled.
6. The parts contacts with materials is made of made of stainless steel SUS304 and reaches GMP standard. This equipments can automatically drain, alleviate to labor the strength, and have the half automation the function.
Technology parmeter
Parameters

SJN-500

SJN-1000

SJN-1500

SJN-2000

amount of evaporationkg/h

500

1000

1500

2000

water consumption of circulation (T/h)

6

12

15

18

steam consumption (kg/h)

250

500

750

1000

Size length*height*width ( m)

4×1.5×3.3

5×1.6×3.5

6×1.6×3.7

6.5×1.7×4.3

concentration ratio

1.2-1.4

vaporization temperature () Single effect

80~90

vaporization temperature () Dual-effect

55~70

degree of vacuum

(Mp) Single effect

-0.06

degree of vacuum

(Mp) Dual-effect

-0.08

Steam pressure Mpa

0.09
distiller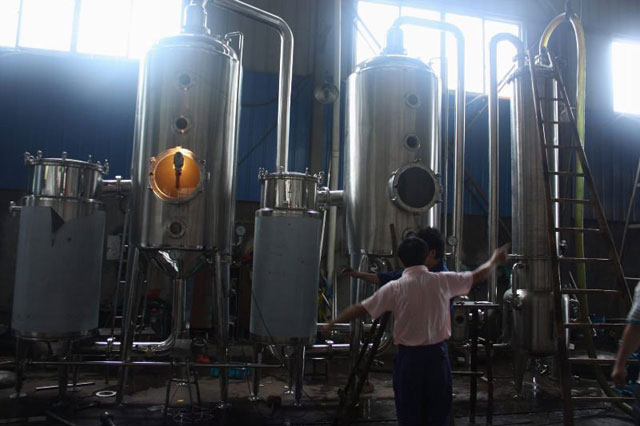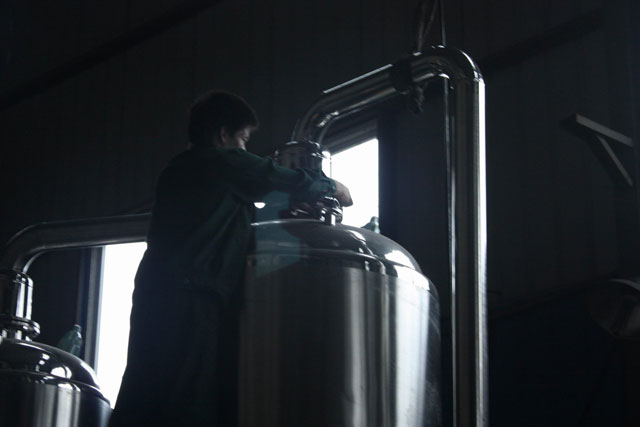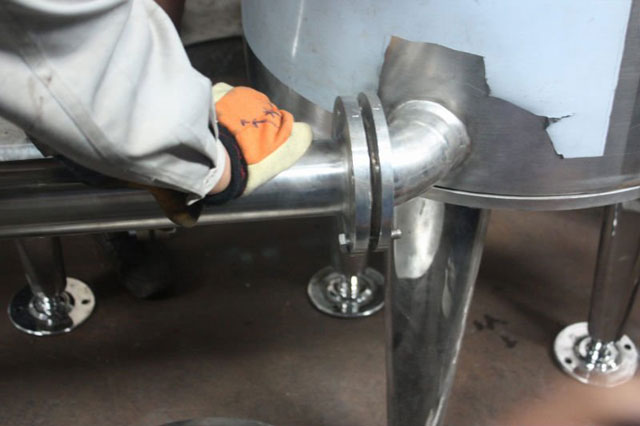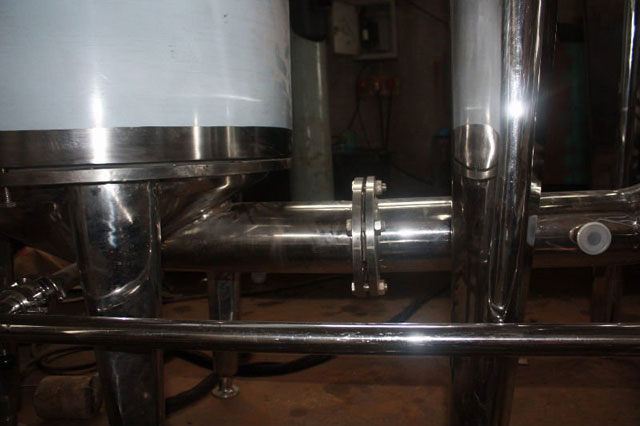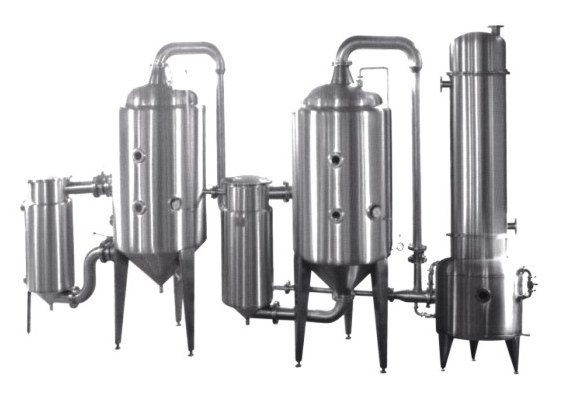 Would you like to get more products information or order it, please call me, or click Inquiry Now to fill in the Form.
It helps you get more informations you need to trade confidently with suppliers.
Related products : Milk Equipments | Alcohol Recovery Distiller | Beer Equipments | Food Equipments | CIP Cleaning System | Heat Exchanger | Storage Tank | Pharmacy Equipment | Jacket Kettle | Reaction Equipments
More information
If you have any enquiry about quotation or cooperation, please feel free to email us at
tinazhangfly@aliyun.com
or use the following enquiry form. Our sales representative will contact you within 24 hours. Thank you for your interest in our products.